SpectrumWatch News
---
SpectrumWatch Newsletter - May 2003
SpectrumWatch Newsletter - April 2003
SpectrumWatch Newsletter - February 2003
SpectrumWatch Newsletter - January 2003

1/9/2003 - Search archived Form 601 applications!
Now, you can check "Search Archived Apps" to search for archived Form 601 applications.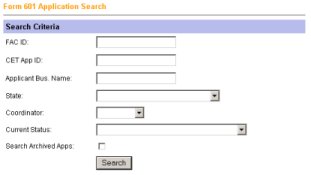 The new results page lists all matching applications. The archived apps are highlighted in orange and marked with [A]. When you click on the archived application number, the PDF of the application will appear since this application cannot be modified. Also, a new paging system is at the bottom of the page for easier navigation.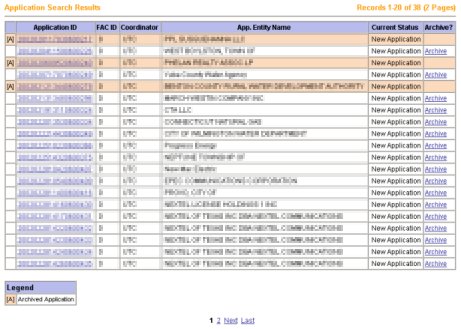 1/6/2003 - AutoX fix when checking Applications Database.
When searching in the Applications Database, some results were not being returned. For example, after modifying an existing location on an application, the AutoX search did not return all frequencies at that modified location.
12/19/2002 - Save your Service Contour Studies in My Contours!
Click on "My Account" - "My Contours" to view all of your previous service contour studies. Click on the study name to edit a previously saved service contour study. To remove from My Contours, check the checkbox and click the Delete button. You can now just SAVE the service contour study instead of creating a map. Click "Save Only" button from the service contour page and it will be saved in My Contours, but it will not generate the map and deduct chips from your chip account.
12/18/2002 - New SpectrumWatch (SW) Message Center for upgraded (not Public 601) users!
SW Message Center is a way to send/receive/view messages online. There are 3 sections:
1) Send Message - Send a message (text, app or AutoX) to another SW user in your company
2) My Inbox - View messages sent to you
3) My Outbox - View messages that you have sent

Why should I use SW Message Center?
1) You don't need to use an external email program to communicate with other SW users in your company. No need to look for their email address.
2) Do you want another user to take a look at a specific application? Just send an SW Application message and specify the application ID. The message will automatically have the application ID as a link in the message.
3) Do you want another user to see your AutoX search? Just send an SW AutoX message and select a saved AutoX (from My AutoX). The message will have a link to the AutoX search.

Relevant Sites
---
The Wireless Telecommunications Bureau (WTB) handles all FCC domestic wireless telecommunications programs and policies, except those involving satellite communications or broadcasting, including licensing, enforcement, and regulatory functions.
The National Telecommunications and Information Administration (NTIA), an agency of the U.S. Department of Commerce, is the Executive Branch's principal voice on domestic and international telecommunications and information technology issues.
The Cellular Telecommunications & Internet Association (CTIA) is the international organization that represents all elements of wireless communication - cellular, personal communication services enhanced specialized mobile radio, and mobile satellite services - serving the interests of service providers, manufacturers, and others.
RadioResource delivers wireless voice and data solutions for mobile, remote and mission-critical operations.
Wireless Week is a high-quality, in-depth weekly newspaper covering all the business, technology and regulatory news in cellular, personal communications services, paging, specialized mobile radio, private mobile radio, wireless Internet, wireless data, satellite, wireless local loop and microwave.
RCR Wireless News, the book of record for the wireless communications industry, is owned by Crain Communications, Incorporated.